Zen Bins is committed to bringing you the very best in Custom Board Game Storage Solutions.
Zen Bins Destiny Custom Storage Kickstarter fully funded on March 5, 2017! Missed it??  Retail sales coming soon in July 2017!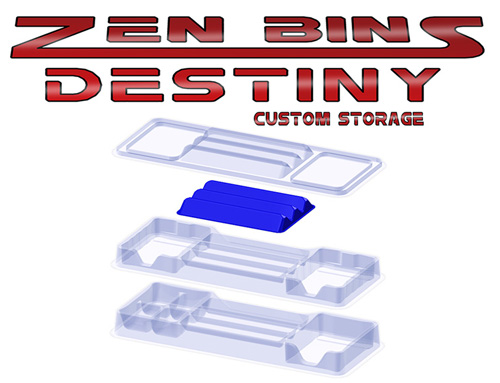 Our second Kickstarter is live now. Click the image above to check out all the details of the custom Destiny storage product back us if you like what you see. In turn you will receive product before they hit retail and get extra product for helping to hit funding stretch goals.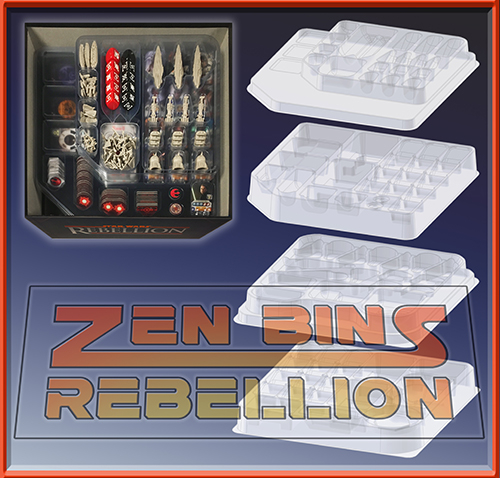 Our very first Kickstarter campaign for 13.5 mm Collectible Dice/Card Game Storage earned over 400% of the funding goal and ended up with a grand total of $28,336 and 634 backers.
For those who missed the campaign and would like to still receive the product, Click Here for Where to Buy Zen Bins.

Zen Bins creates unique stackable interlocking storage containers for your favorite
collectible dice and card games to Bring a State of Zen to your Gaming Experience.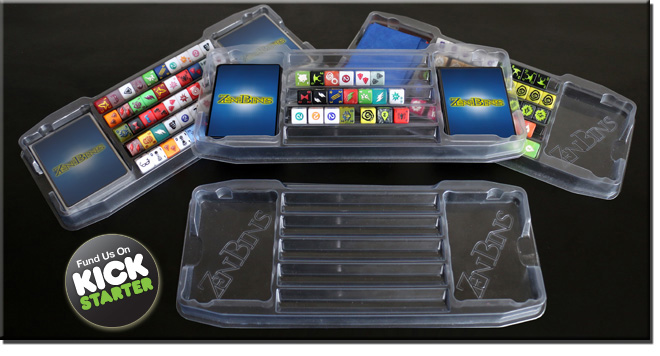 New Product Release Now Live on Kickstarter.com!
For most of us gaming is a way for us to relax and unwind after a stressful week…well sort of. I know there is the occasional "You can't do that!" and "Look it up in the FAQ!" to only find that there is nothing on this rule and you fight over it for 30 minutes. And of course the even more rare Rage Quit that we secretly love to be the cause of.  But why add to your aggression with dice everywhere or resources strewn all over and rolling off the table. It is time to "enhance your calm" with an interlocking stackable storage solution for your favorite collectible card and dice games. You know which ones we're talking about! Now you will have your precious gaming components within arm's reach to grab before your friend up-ends the table and runs home like a little school girl.  But seriously, we wanted to make a unique stackable storage solution for this and many other games/applications in your life.
STACKABLE…Patent Pending Interlocking Plastic Bins with each level holding 50 (13.5mm) dice and approximately 80 unsleeved cards (40 sleeved). Keep adding to your game storage capacity by stacking more Bins and with the clear casing, you can quickly see what's inside.
PORTABLE…Most backpacks can fit 1 Plano box of collectible dice which only holds your dice collection and are cumbersome to remove dice with the vertical edges.   Our system is so compact, you can fit many stacks INCLUDING the playing cards.  Each layer firmly locks together to safely travel with.  Also, removing dice is a breeze.  Over 1,000 dice / 1,600 cards fit in some backpacks.
SO SMALL…Take up a minimal amount of space for that looming extra 5″ of shelf space that you never are able to find a game spot for, without having to turn a game sideways and listen to all of the pieces tumble from within. (5″ x 12″ x 3/4″)
SUPER LOCKING…Durable plastic that firmly "Snaps" together but releases easily from the ends.
READY TO TRADE? Store and quickly access separate Bins for trading cards/dice with your friends.
MADE IN USA.  We can produce and ship products extremely fast directly from St. Louis, MO.