ZEN BINS COLLECTIBLE DICE GAME STORAGE (CDGS)

Each core set features high quality molded plastic featuring:
3 Interlocking Stackable Bins (Each Bin holds 50 Dice) and (*Each holds approximately 40 sleeved cards or 80 unsleeved)
Bin Dimensions: 5″ Wide x 12″ Long x 3/4″ Tall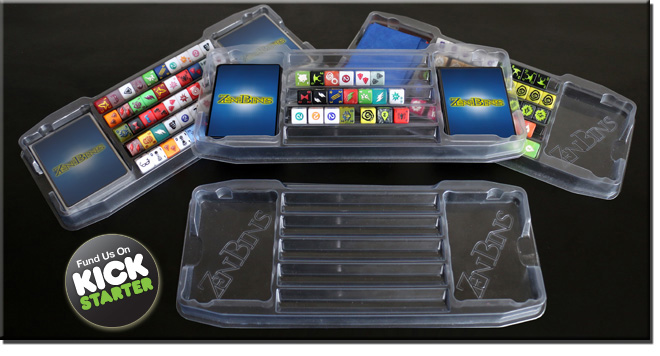 This core set comes to a Total of holding 100 collectible dice (up to 13.5 mm) and approximately  160 unsleeved cards (80 sleeved).  The top layer serves as the lid but you can keep stacking then it turns into a bin as well.  This makes it so 2 sets (6 bins) will increase your storage capability to hold 250 dice and 200 sleeved/400 unsleeved cards.

3 Bins – 100 Dice + 80 Sleeved/160 Unsleeved Cards
6 Bins – 250 Dice + 200 Sleeved/400 Unsleeved Cards
9 Bins – 400 Dice + 320 Sleeved/640 Unsleeved Cards
12 Bins – 550 Dice + 440 Sleeved/880 Unsleeved Cards
15 Bins – 700 Dice + 560 Sleeved/1120 Unsleeved Cards
Since our Kickstarter ended, we have made some improvements to the design including making the side "Card" areas capable of holding dice.  Production of our first Zen Bins product is set to begin the week of 7/20/15.  Here are some of the current views of the final prototype: